Dear Students, Faculty and Staff:
As tributes are pouring in for President Jimmy Carter, who has entered hospice care, I join others around the globe in honoring his life. Much like my reflection just a few months ago on the life of Queen Elizabeth II, Carter, the longest living president, has been a figure of great historic importance who has lived a life of service.
I was fortunate to attend one of his Sunday School classes a few years ago in Plains, and I observed a humble man of the people who epitomized servant leadership that was rooted in his deep Christian faith.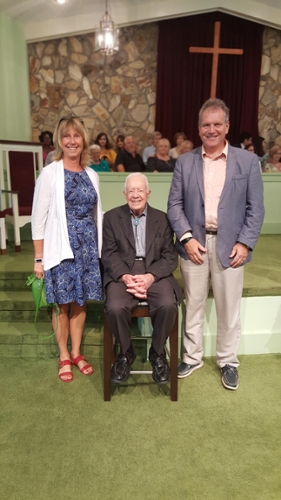 We talk about "finding your greatness" at MGA. President Carter found his in service and gave it back to the world, yes, as the Governor of Georgia and President of the United States of America, and more importantly as a person whose whole adult life showed us how to be our very best as a person. That is a story for us to cherish – not just in our work, or in positions of authority in our careers, but in the quiet times away from work – as we seek to leave the world a better place.
Through his life he sought to serve, as a Naval officer and family businessman in Georgia, and through his time in Atlanta and the White House, his tireless devotion to Habitat for Humanity, his Human Rights initiatives across the globe, his advocacy for peace in places of war and tension, his presence in strengthening voting and elections around the world, and his service to numerous causes: in these ways, his life was so very well lived.
Sometimes history can be harsh in judging notable figures. Historians often cite his presidency with mixed reviews, and the American people judged that record by only giving him one term as president. But history will also be kind to Jimmy Carter in remembering him as one of the greatest former presidents in the history of the Republic, spanning 42 years after his presidency.
For MGA, we have the memory of Carter visiting our Cochran campus on November 2, 1972, when he was Governor of Georgia. Just a few weeks earlier he had come to Macon for a Career Planning Conference where he stated "The purpose of education in a democratic nation ought to be to provide the student with the tools that will allow him the maximum amount of freedom in managing and directing his life – and this includes his life's career."
That is a lesson for our University to honor. We award degrees, we help students achieve great careers. We are stewards for their public success. But let us also honor our value of stewardship in the kind of lives that we and our students can demonstrate in the myriad of lifelong opportunities to serve our fellow human. Nobody showed that better than Jimmy Carter. He truly "found his greatness", inside and outside his career, as a person of great stature and great faith, as an inspiration and a kind neighbor next door. We are better because of his life and his greatness.

Christopher Blake, Ph.D.

President, Middle Georgia State University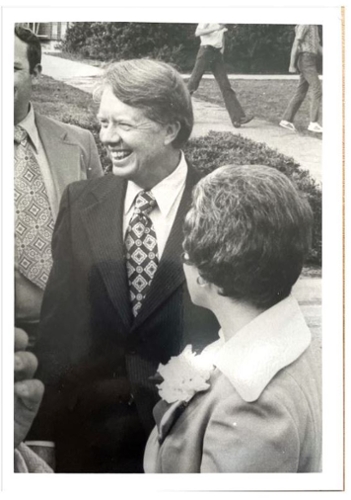 Remembering Jimmy Carter, former Georgia governor, former U.S. president, and, with his wife, Rosalynn, founder of the Carter Center. In 1972, then-Gov. Carter visited the Cochran Campus of what is now Middle Georgia State University as keynote speaker at the dedication ceremony of a new building, Russell Hall. Thanks to April Renfroe Warren, collections librarian on the Cochran Campus, for locating these images.