Veterans Day, known originally as Armistice Day to mark the armistice ending World War I in 1918, commemorates and celebrates the lives of all veterans, living and dead, who have served our nation and helped preserve peace and freedom.  One of the hallmarks of democracy is a military that is independent of political agenda or loyalty, but subservient to the will and policy of the people.  We today honor those in the United States who have committed to that ideal in their professional service at the highest level, since the founding of the Republic two hundred and forty years ago.
Observing this occasion as we close out a week in which the United States concluded one of the most rhetorically-divisive elections in modern history, it is fitting that we should reflect on the unity among those we honor. Our men and women in uniform, and their families, answer the call to service without regard to the ethnic background, race, religion, gender, age, sexual orientation, disabilities, or political persuasions of those they defend. They give their all to ensure that we can continue to chart our own course as a nation.
From the founding of our democracy, servicemen and women have been willing to take up arms and risk their lives to defend the values that draw us together—the rights to life, liberty, and the pursuit of happiness—however their fellow countrymen and women may define those values. Georgia ranks 5 th in the nation for active duty military (nearly 70,000 members), 5th for female veterans (more than 90,000), and 9 th overall for veterans (more than 750,000). In short, if we want a glimpse at what selfless service looks like, we need simply look around.
This week we have been celebrating veterans across all five of our campuses, with celebrations ranging from Thank a Vet events to panel discussions. Tomorrow, I will continue our annual tradition of honoring veterans with a ceremony at the World War I memorial at the base of Coleman Hill with Macon-Bibb Mayor Robert Reichert and other leaders.
Here at Middle Georgia State, our commitment to veterans runs deep. As I shared with you in August, not only have we bolstered the services we offer to veteran and military students, but we are now home to the Georgia Veteran Education Career Transition Resource (VECTR) Center at MGA. In its first three months of operations, VECTR has connected more than 3,000 military and veteran families to tools ranging from career coaching and transcript evaluation to state and federal government services to onsite vocational training in partnership with Central Georgia Technical College.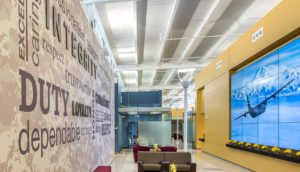 If you visit VECTR, one of the most eye-catching features of the facility is a wall that displays the values of our various military branches. Emblazoned with words like duty, loyalty, excellence, integrity, and respect—it reminds visitors, whether veterans, members of the public, or employers—of what draws our men and women in uniform to defend our rights.
Among the most cherished of our rights is the right to free expression. In this week's election, more than 125 million Americans expressed their views by casting a ballot. We did so peacefully. Now, in the wake of the election, tens of thousands are expressing their disappointment with the results through demonstrations across some 25 cities. As a university, we must hold the free expression of ideas in high regard. For it is only by encountering and discussing experiences and ideas different from our own that we truly learn.
As our nation continues to bind the wounds of political discourse, let us as a community, draw our example from those who defend us. Let us thank our veterans for modeling the respect and integrity to which we, as Americans, are all called.